WELCOME TO THE HOUSE OF DAVENPORTS. CHEERS!
Davenports is a brewing and pub company based in the heart of the West Midlands.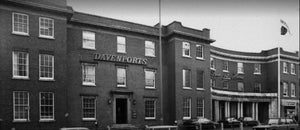 Beer for everyone
We are one of the largest brewing and pub retailing companies in the region, with a bespoke artisan brewery, distribution centre and Head Office situated in Birmingham.
As well as brewing Davenports' heritage and contemporary beers, we also operate a large number of pubs. These include City Centre venue bars, traditional 'Heart of the Community' pubs as well as quality food and drink destination sites.
Within our portfolio, we also own and operate hotels, night clubs and event venues around the West Midlands region.
Whether it's our Davenport beers or our pubs, we strongly identify with the flavours and heritage of the West Midlands, especially Birmingham and the Black Country.
In Davenports pubs you can expect a warm welcome, good food and a great range of drinks, including our outstanding Davenports beers.