WE HAVE OVER 300 YEARS OF COMBINED BRAND HERITAGE, WITH SOME OF THE MOST ICONIC BEERS IN THE MIDLANDS WE ARE PROUD TO CONTINUE THIS BREWING HERITAGE.
Davenports brewery began in 1829, and our range of revival cask beers harks back to some of the very original secret brews. Highgate Brewery was established in 1898  by James A. Fletcher and began brewing in 1899.  Its best known for its classic midlands dark beers , with the  "mild" style beer  historically being a staple for the workers of the local area. at its peak its was producing 100,000 barrels of mild beer per year. The Dares brand , established in 1927 in Birmingham, was acquired by Davenports in 1960.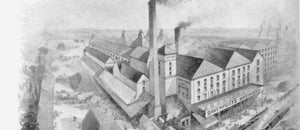 Davenports
His son Robert moved into Bath Row in 1852 and the business was gradually centralised there. In 1867 John Davenport and Sons was registered at that address as "Maltsters, Hop Merchants, and makers of Pale and Brown Malt for brewing bitter ales and porter".
Davenports bought the old Bath House, from which the Row took its name, converted the mansion into offices and built over the gardens. The biggest change to the company came when Baron John Davenport began the 'Beer at Home' service in 1904. This expanded rapidly and a distribution network was set up all over the country. A separate company, Davenports CB Ltd, was set up to deal with the bottled beer and home delivery service, while John Davenport and Sons Ltd continued to run the brewery and the licensed houses.